Motorola Xoom Vs. Samsung Galaxy Tab 10.1 Vs. Samsung Galaxy Tab 8.9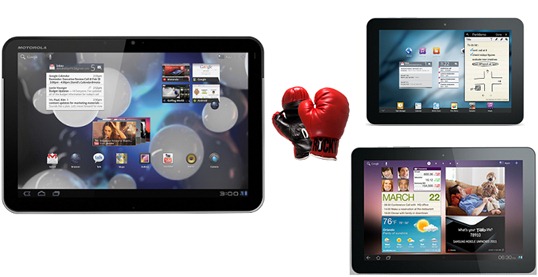 Samsung has just outed its revamped Galaxy Tab 10.1 tablet, making it the world's thinnest tablet with 8.6mm thickness, along with the Samsung Galaxy Tab 8.9 tablet with same thickness. Both these tablets will give tough competition to the first 4G LTE capable and first Android 3.0 Honeycomb powered Motorola Xoom tablet.
Both Samsung Galaxy Tab 8.9 and 10.1 tablets use Honeycomb OS skinned with TouchWiz UX, dual-core 1GHz chipset, dual-cameras (3MP rear camera with AF, LED flash & 2MP front-facing camera), Bluetooth (3.0 for 8.9 Tab, 2.1 for 10.1 Tab), 1080p HD video playback, Wi-Fi a/b/g/n, Flash Player 10.2, Samsung Mini Apps Tray, Social Hub, Reader's Hub, Music Hub, Android Market, and powered by 6000mAh battery and much more.
Motorola Xoom runs with Android's latest 3.0 Honeycomb OS, dual-core Nvidia 1GHz chip, 10.1 inches display, 5MP rear camera, 2MP front-side camera, 720p HD video recording capability, HDMI out, a healthy 32GB of onboard storage, micro-SD card for 32GB memory expansion with future software update, Android Market, 4G LTE Connecttivity, powered by
6500mAh

and much more

.
Motorola Xoom Vs. Samsung Galaxy Tab 10.1 Vs. Samsung Galaxy Tab 8.9
Motorola Xoom

Samsung Galaxy Tab 10.1


Samsung Galaxy Tab 8.9


OS

Display & Resolution

8.9 inches WXGA
1280×8000 Pixels
(160 ppi)

10.1 inches WXGA
1280 x 800 pixels
(170 ppi)

8.9 inches WXGA
1280 x 800 pixels
(170 dpi)

Processor

1GHz Nvidia Tegra 2
Dual-Core

1GHz Nvidia Tegra 2 Dual-Core

1GHz Nvidia Tegra 2
Dual-Core

RAM

Memory Storage

Micro-SD Card Slot

Yes
32GB (With a future Software Update)

Yes
Micro SD Up to 32GB

Yes
Micro SD Up to 32GB

Rear-Camera

5 MP with LED Flash
720p HD Video Recording Capable

3 MP with LED Flash
720p HD Video Recording Capable

3 MP with LED Flash
720p HD Video Recording Capable

Front-Camera

Connecting Ports

Wi-Fi

3G

4G Support

Apps

Android Market
Amazon Appstore

Android Market
Amazon Appstore

Android Market
Amazon Appstore

Barometer

Gyroscope

Accelerometer

Adobe Flash

Battery

Li-Ion 6500mAh;
10 Hours running

Dimensions & Weight

249 x 167.8 x 12.9 mm
730 grams

256.6 x 172.9 x 8.6 mm
595 grams

230.9 x 157.8 x 8.6 mm 470 grams

Carrier

Price

$499(16GB),
$599(32GB)

$469(16GB),
$569(32GB)